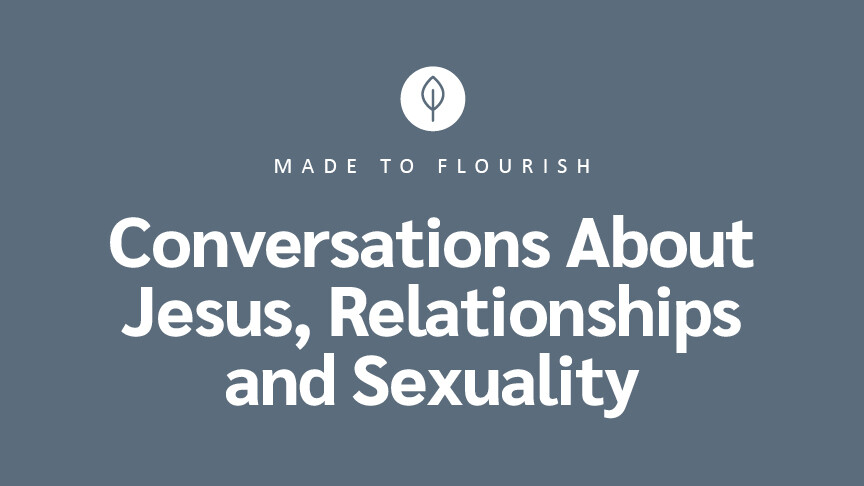 Every Sunday, from 01/22/2023 to 02/19/2023, 11:00 AM - 12:00 PM
Conversations About Jesus, Relationships, and Sexuality
Some of the most pressing questions facing the church today are around relationships and sexuality. The church cannot be silent about these things. Beginning in January, Third's Student Ministry will be engaged with a 5-part video series to help middle and high school students embrace a holistic and Christ-centered view of relationships and sexuality. The goal for this series is to faithfully present our Creator's design for our bodies and help students follow Jesus with their sexuality.
Third desires everyone to be informed on what is being taught to our youth. We invite parents, grandparents, friends, young adults, and everyone who cares about students to attend the 11:00 AM Made to Flourish Series in the Auditorium January 15-February 19. During this time, we will preview the student ministry video which will be shown during the upcoming week, engage in conversations, and join in intercessory prayer for this to be a season where we love well as we embrace grace and truth. Although geared towards students, the videos are appropriate for all ages middle school and above and we believe this opportunity will help anyone who attends to flourish in relationships.
January 15: God's Love Story- God's love for us is foundational. All our obedience, all our sexual integrity, is a response to God's first love for us. We need to understand this truth!
January 22: Sex & Marriage- Our conversations about sex should not be a list of 'do's' and 'don'ts'; rather, they should show the beauty found in the created order. Sex is meant to point us back to our Creator. It is also meant to be practiced in the covenant relationship between one man and one woman.
January 29: Singleness & Intimacy- Singleness has a distinctive role in God's covenant people. We desire everyone to place a high value on the significance of singleness and be encouraged to cultivate intimate, non-sexual relationships that have depth and meaning.
February 5: Dating & Friendship- The Bible gives us principles that might help us think through dating, but it doesn't give us direct, specific guidance. We will look at two perspectives: 'dating for marriage' and 'dating for maturity.' We will also discuss the importance of friendship as there is an overlap that exists between the topics of dating and friendship.
February 12: Shame & Forgiveness (MIX topic)/Porn & Masturbation (CORE topic)- Shame can be crippling, causing people to feel isolated. This lesson will expose the lie of shame. Many people can be carrying a weight of shame surrounding the topics of sex and sexuality, but we can hear the words 'You are forgiven' and find freedom in these words!
Porn and masturbation can be a destructive mix. We will think Biblically about both of these topics and equip ourselves to navigate its influence in our lives.
February 19: Wrap-Up- We will engage in dialogue and prayer together to culminate this series.